History of Green Hydrogen Lab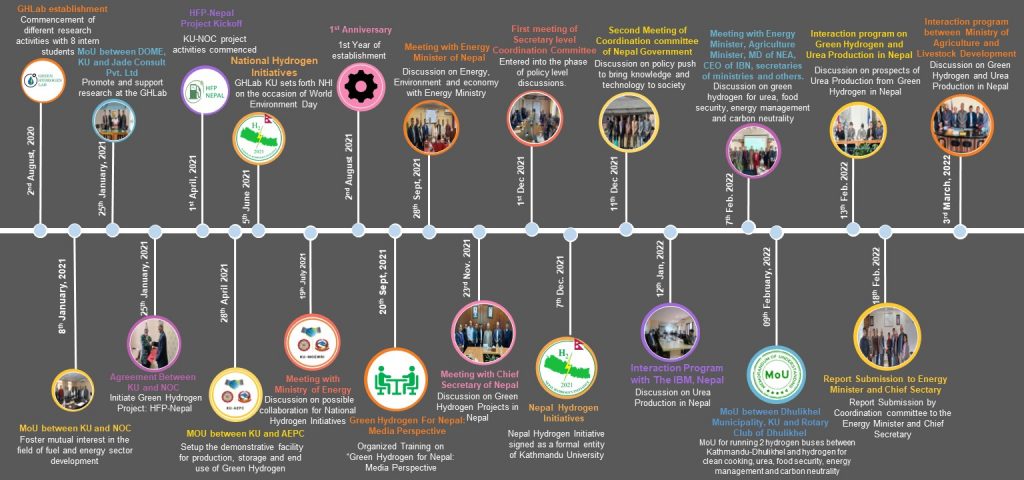 The Green Hydrogen Lab (GHLab) was officially established on August 2, 2020, under the team leadership of Dr. Biraj Singh Thapa, with the commencement of different research activities with eight intern research assistants. The research topics include the development of lab facilities, hydrogen production from different sources, end-use of green hydrogen, and feasibility scenarios of green hydrogen in Nepal. Over the past year, Green Hydrogen Lab has brought the academic institution, industries, and government in a single loop for identifying the needs, technology transfer, and local adaptation of the green hydrogen economy system in the Nepalese market. Green Hydrogen lab has conducted different webinars, lecture series, and panel discussions to find possibilities of production of green hydrogen, storage, and end-use applications for Nepal. Nepal Oil Corporation, Alternative Energy Promotion Centre, Jade Consult Pvt., Norwegian Government's NORHED II, and other different agency projects have contributed to the lab's research activities.
On January 8, 2021, Kathmandu University (KU) and Nepal Oil Corporation (NOC) signed an MOU to foster mutual interest in the field of fuel and energy sector development and contribution to increased cooperation between academic institutions and government corporations. Following the MOU, Kathmandu University and Nepal Oil Corporation signed an agreement on February 25, 2021, to initiate the project "Technology Transfer and Local Adaptation for developing NOC as a hydrogen fuel producing and distributing company" with funding of NRs. Fifty million as a research grant. Similarly, on April 28, 2021, the School of Engineering and Alternative Energy Promotion Centre (AEPC) signed an MoU primarily to set up a demonstrative facility for commercial green hydrogen technologies in Nepal within DoME KU. As per the MOU, AEPC supports for developing infrastructure and facilities in the Green Hydrogen lab to the worth of Ninteen lakh Ninety-seven thousand and nine hundred eighty-two Nepali Rupees (NRs 19,97,982/-). Marking World Environment Day 2021, Kathmandu University proposes 'Nepal Hydrogen Initiative (NHI) 2021-2030′ with the promising theme "Ecosystem Restoration." The National Hydrogen Initiative (NHI) incorporates world practice towards energy management and a roadmap for establishing policies, developing commercial pilot projects, and creating a conducive environment for investments in business development in the field of Hydrogen Technology in Nepal. After on July 19, 2021, a Virtual meeting was held between Kathmandu University and the Ministry of Energy, Water Resources, and Irrigation (MOEWRI) to discuss KU-MOEWRI cooperation for Green Hydrogen Initiatives. In this one-year journey, GHLab has set a solid foundation for developing the Green Hydrogen ecosystem in Nepal.