Green Hydrogen Lab, KU- Alternative Energy Promotion Centre (AEPC) Project for "Setting up a demonstrative facility for commercial application of green hydrogen technologies in Nepal within Green Hydrogen Lab, DoME, KU"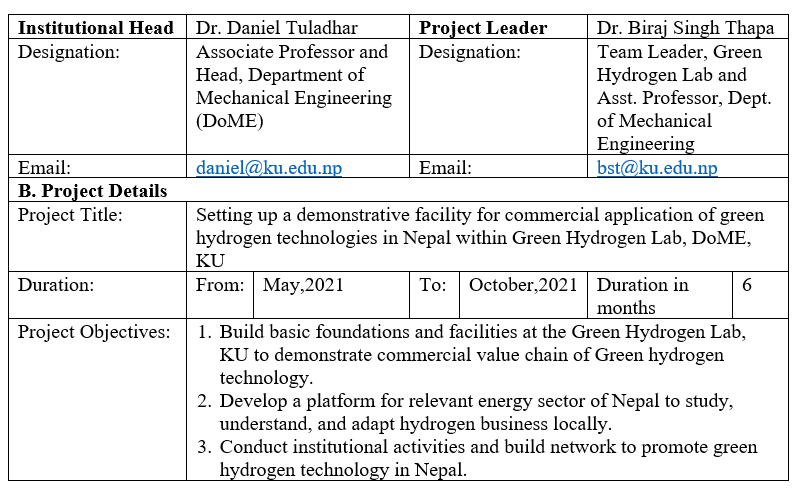 Visibility and Outcomes
The crux of the project is to create a team, facilities and success case that will setup a foundation for high-end collaborative research space for technology transfer and local adaptation of hydrogen technology. It will initiate new interdisciplinary research team in Nepal in the field of hydrogen technology, which is emerging business at the international level. The project will help establish a strong partnership between academia and industry resulting in innovations.
Relevance to AEPC priorities:
The project will directly incorporate the mandates set by AEPC in following domains:
Alternative Renewable Energy
Promotion of commercial applications
Rural access to electricity
Development of infrastructure for promotion of new Alternative Energy business
Following setup will be developed as the functional unit to demonstrate the industrial scale production, storage, supply, and endues of green hydrogen technology in Nepal.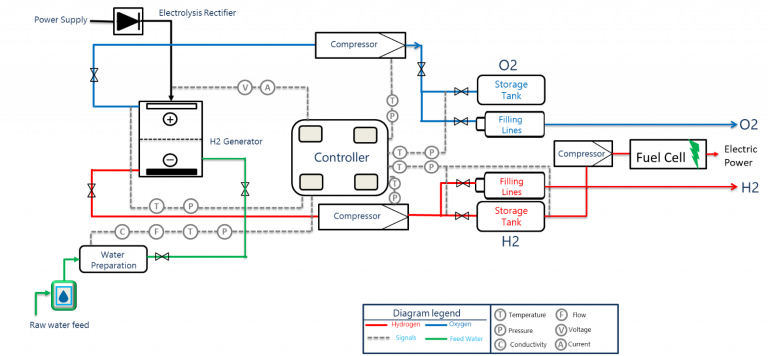 Fig.: Proposed demonstration Facility of 1 kW Green Hydrogen technology systems