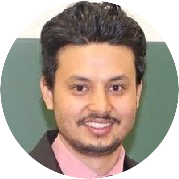 Assistant Professor
Ph.D. Candidate
"Climate change is a serious issue and an immediate and evident change in energy sources and emission patterns is crucial for a greener future. Green hydrogen is one of the most prominent energy carriers and one of the promising paths toward Net zero emission. Nepal has the potential to be one of the cheapest producers of green hydrogen in the world. Research and innovation in the industrial usage of green hydrogen and its derivatives will significantly add value to the future of green Nepal"
Mr. Mahat is an assistant professor at the Department of Mechanical Engineering and a Ph.D. candidate at Green Hydrogen Lab. His research is focused on developing a production model of Steel using low-carbon technology.
Major Responsibility at the Lab:
Conduct research related to PhD.
Research Area: Green Steel.
Involvements:
Ph.D. Candidate (Nov 2022-)
Research Area: Green steel production technology for Nepal
Objectives:
Study the current status of technologies for steel production and investigate the need and advancement of low-carbon pathways.
Identify the state-of-art research advancements in low-carbon steel production technology with commercial application opportunities in Nepal.
Propose a model of green steel production technology suitable for Nepal considering the available source of energy and iron ore quality.